Canon CR-N300, CR-N500
Supported models​
This guide covers the setup for:
Wiring​

Controls​
| Control | CR-N300 | CR-N500 |
| --- | --- | --- |
| Exposure (Iris, Gain, Shutter, ND filter) | ✔ | ✔ |
| White balance (R/B and Color temp) | ✔ | ✔ |
| Black balance (R/B, master black and black gamma) | ✔ | ✔ |
| Other color settings (detail, knee, saturation, gamma, color space, denoise) | ✔ | ✔ |
| Green and Red Tally | ✔ | ✔ |
| OSD/Menu | ✔ | ✔ |
| Pan/Tilt (from RCP touchscreen or USB joystick) | ✔ | ✔ |
| Lens (zoom, focus) | ✔ | ✔ |
| Scene file : save/recall | ✔ | ✔ |
Camera Configuration​
The camera by default is on DHCP. You can either use that IP (which is potentially changing). Or you can set up a static IP:
Connect to your camera DHCP address (can be found by scanning network or in your internet router)
If this is the first setup, you will be asked to set up a user/login:

And then set up the Network, change:

IPv4 Address Settings Method to Manual
IPv4 address to the desired camera IP: 10.192.100.100 for example
Subnet Mask to the desired camera mask: 255.255.0.0 for example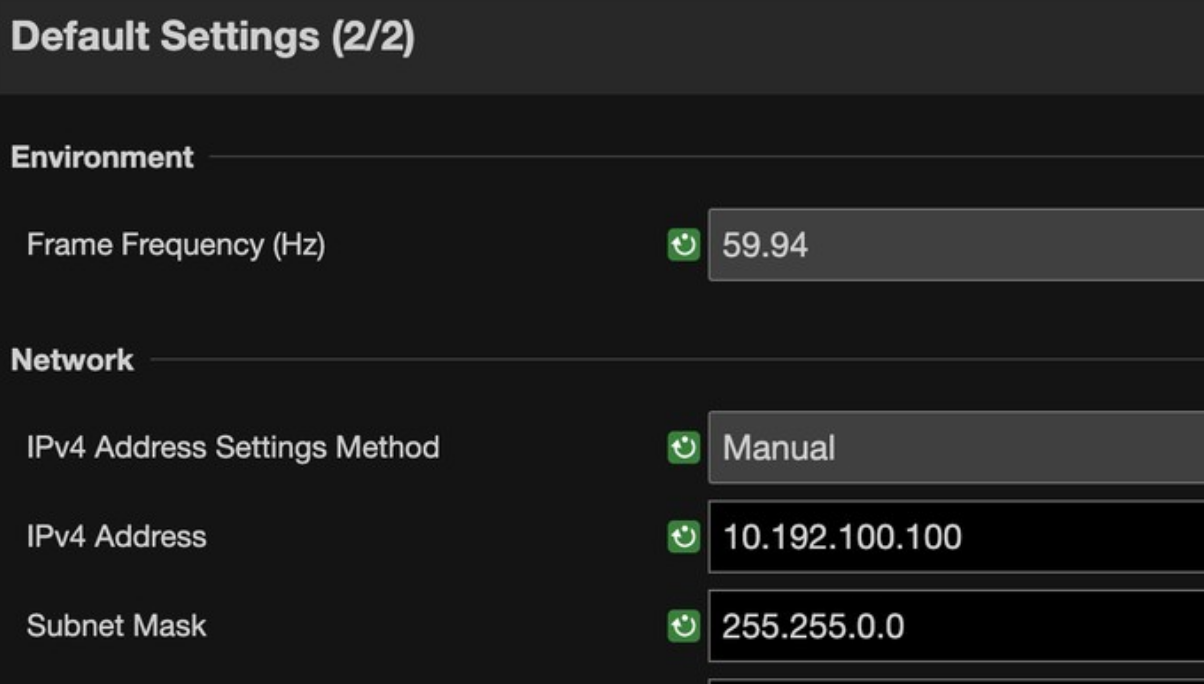 After that, the camera will reboot and be controllable

Ensure to set up Shooting Mode to M and that all Auto modes are disabled (optional):

If your camera IP is not in the range 10.192.0.0/16, you can follow this guide to set up the RCP to be able to reach the camera.
note
If you have anything in the camera web interface set up in Auto (AWB, Auto Iris, etc.), the RCP will be unable to control it. Ensure to set up the desired parameters to Manual to be controlled by the RCP.
Setup​
While Canon CR-N300 and CR-N500 are both using XC protocol, but they have different lenses, etc. So ensure to select the correct model in the RCP to have the adequate control range.
You can follow the generic guide here
Canon CR-N300​
Select brand Canon and model CR-N300.
If everything is set up correctly, you should see the following:
Canon CR-N500​
Select brand Canon and model CR-N500.
If everything is set up correctly, you should see the following:
Troubleshooting​
Check the following:
Ensure to set up the camera to Manual mode
Ensure the camera IP is static and in the range of the RCP (see guide)
Check wiring, cables, etc.
Check from your computer if you can reach the PTZ web UI and the RCP web UI.