Canon PTZ
Wiring​

Camera control​
| | |
| --- | --- |
| Exposure | |
| | Iris |
| | Master gain |
| | Shutter |
| | ND filter |
| Paint | |
| | White Balance ( Red gain & Blue Gain) |
| | Color temperature balance |
| | Detail |
| | Master Black and Black Gamma |
| | Knee |
| | Saturation |
| | Detail (zoom, focus in speed) |
| | Gamme (OETF) |
| | Color space |
| | Denoise |
| Others | |
| | Pan and Tilt |
| | Lens (zoom, focus) |
| | Tally red and green |
| | TOP / HANG parameter |
| Auto | |
| | Auto Focus ON/OFF |
| | Auto Iris ON/OFF |
| | Auto Exposition ON/OFF |
| | Auto Gain ON/OFF |
Camera Configuration​
The camera by default is on DHCP. You can either use that IP (which is potentially changing). Or you can setup a static IP:
Connect to your camera DHCP address (can be found by scanning network or in your internet router)
If this is the first setup, you will be asked to setup a user/login:

And then setup the Network, change:

IPv4 Address Settings Method to Manual
IPv4 address to the desired camera IP: 10.192.100.100 for example
Subnet Mask to the desired camera mask: 255.255.0.0 for example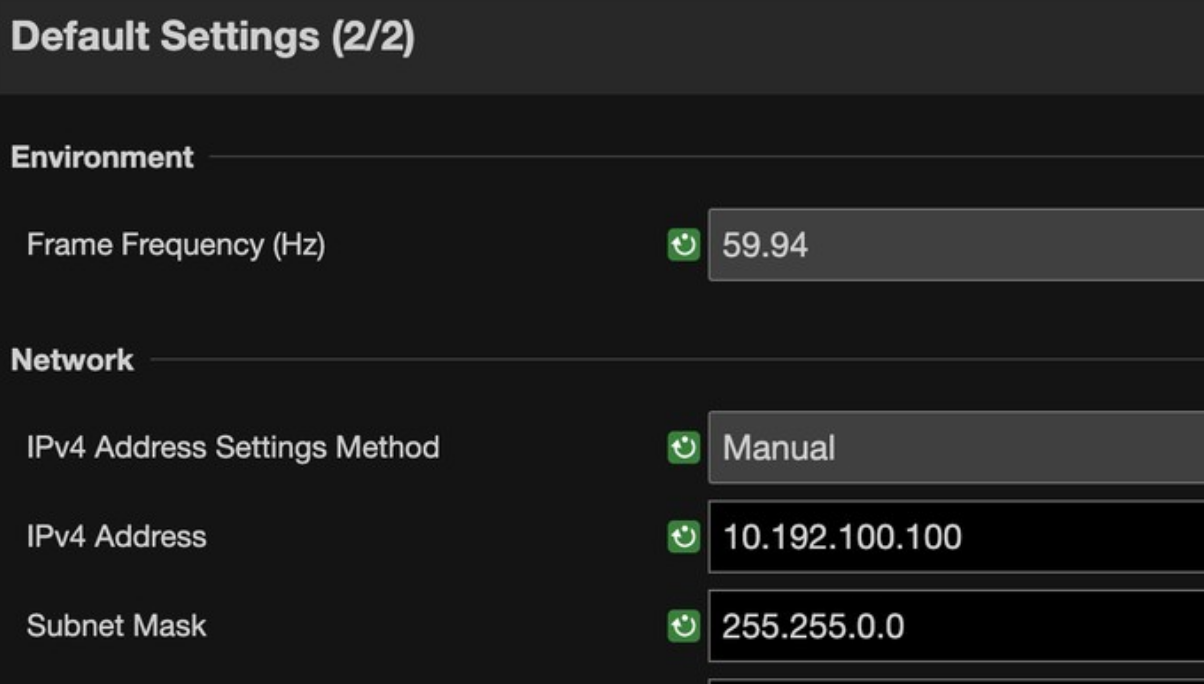 After that the camera will reboot and be controllable

Ensure to setup Shooting Mode to M and that all Auto modes are disabled (optional):

If your camera IP is not in the range 10.192.0.0/16, you can follow this guide
note
If you have anything in the camera web interface setup in Auto (AWB, Auto Iris, etc.), the RCP will be unable to control it. Ensure to setup the desired parameters to Manual to be controlled by the RCP.
Controls​
You can control:
Exposure
White balance
Black balance
Pan/Tilt/Zoom/Focus
Setup​
You can follow the generic guide here