ARRI CAP
Compatible models​
ARRI Alexa mini
ARRI Alexa mini LF
ARRI Alexa 35
For Amira and SSCP, check our ARRI SSCP guide.
Controls​
| Control | ARRI CAP |
| --- | --- |
| Exposure (Iris, ISO, Shutter and ND filter) | ✔ |
| White balance (R/B and Color temp) | ✔ |
| Black balance (R/B) | ✔ |
| Other (Multi matrix, Black Gamma, Knee, Test/Bars) | ✔ |
| Scene file : save/recall | ✔ |
Wiring​
The camera is controlled over IP:

Setup​
Camera setup​
You need to:
Setup a static IP on the camera
Activate and configure CAP control
Camera IP​
In System > Network/WiFi, setup:
LAN IP mode to static
LAN static IP to desired cam IP (here 10.0.2.6)
LAN static subnet to desired cam subnet (here 255.255.0.0)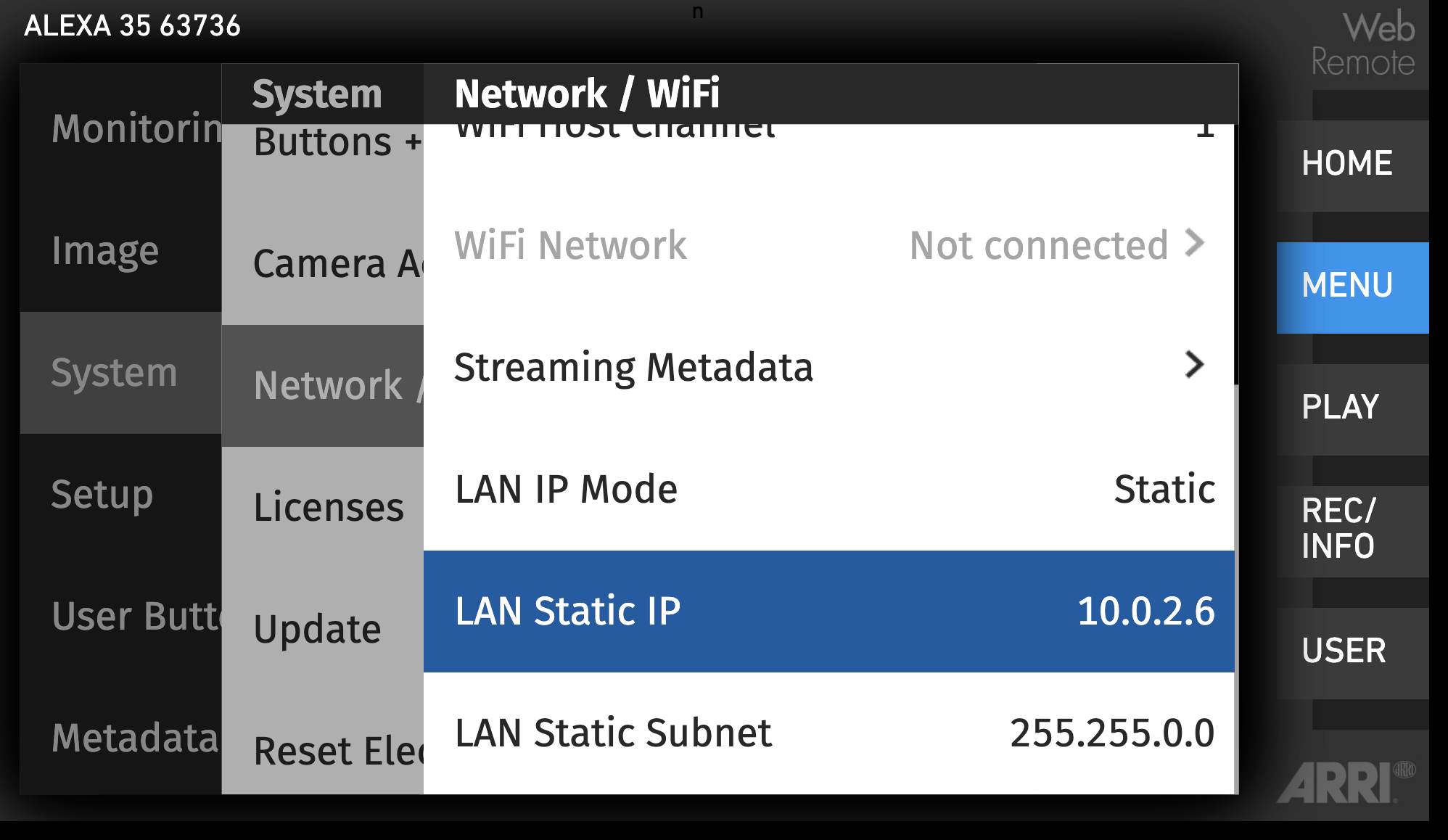 note
If the RCP doesn't have an IP address in the same range as the camera IP, you should add one in the LAN section by following this guide.
In this setup, my camera IP is 10.0.2.6/16 and my RCP IP is 10.0.3.10/16
CAP control​
In System > Camera Access Protocol (CAP):
Ensure Enable CAP Server is checked
Ensure CAP Server Password is set to arri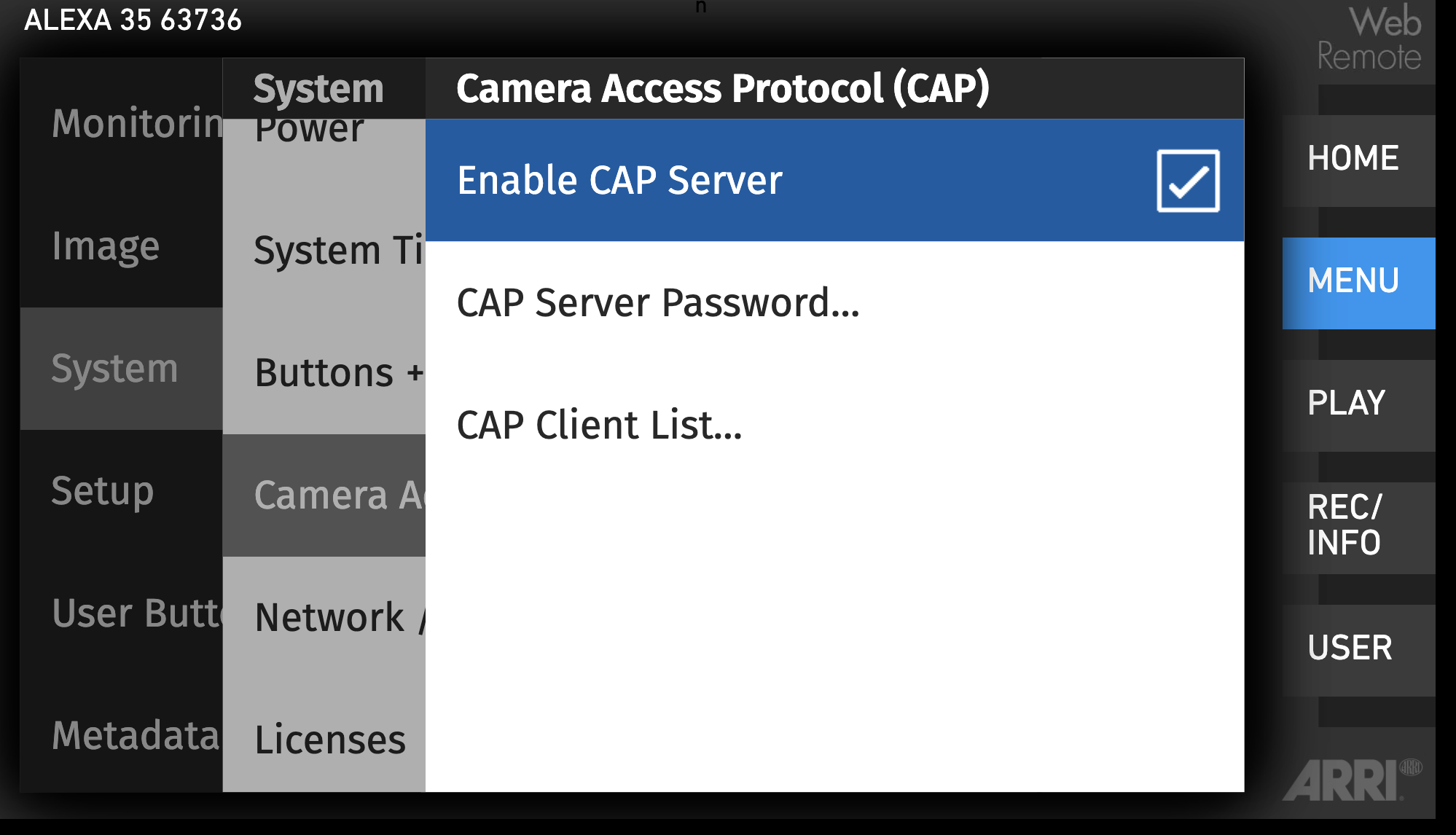 RCP configuration​
Click on the + in the camera block, a new panel will appear on the right
In General Configure a Number and a Name
Select ARRI for the brand and CAP as the model
Enter the IP of your camera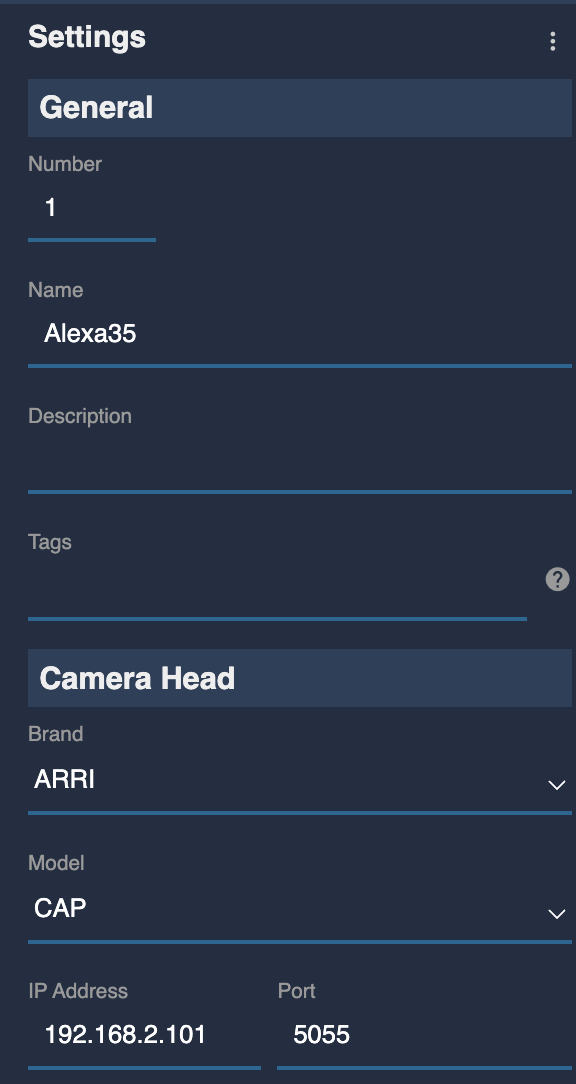 If everything is properly configured, it should go green: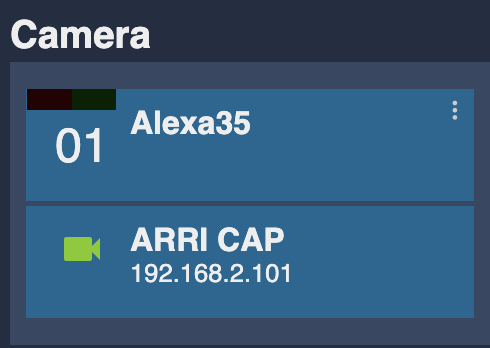 Going further​
External Lens Control (RIO)​
But you can control the iris with the Lens block:
You have a Fuji or Canon motorised lens, follow this guide
You have a non motorised lens, you can integrate tilta motors
More shading control​
CAP protocol is limited to the controls listed above. If you need more control you, you can combine it with a LUT processor. Check our VP4 manual for more information.