Overview​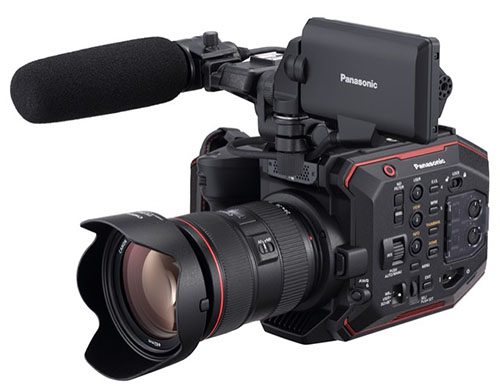 Panasonic AU-EVA1 camera provide remote control and multiple direct access functions over serial protocol. A typical setup consists of a CI0 IP to serial interface to control the camera over IP from an RCP.

Main Adjustments​
| Function | Notes |
| --- | --- |
| OSD menus | All functions available |
| Exposure | Iris1,2, Shutter, Gain, Auto Exposure |
| White balance | Auto (ATW), One Push, Manual |
| Primary corrections | Master Black1 , Master Gamma, Color Gains, Saturation |
| Lens2 | Iris, Focus, Auto focus, Zoom |
| Other | Detail Enhancement, Digital Zoom1, White Clip |
not supported on all models
on zoom block cameras
Note: Red and Blue gains are not supported by the AU-EVA1 protocol.
Setup​
USB connection​
The Panasonic AU-EVA1 camera is controlled over IP using one of the supported USB to Ethernet adapters listed below. Other models will not work.
UGREEN USB 3.0 to Ethernet RJ45 Lan Gigabit Adapter for 10/100/1000 (SKU 20256, make sure to order the USB 3.0 version, not the USB 2.0) Plugable USB3.0 Gigabit Ethernet Adapter
BUFFALO Wired LAN adapter LUA4-U3-AGT
Connecting​
Plug the USB - Ethernet adapter at the top back of the camera
Connect both your Panasonic AU-EVA1 and your Cyanview RCP to a PoE network access.
Cam setup​
step 1Verify your Panasonic AU-EVA1 Firmware is in version 3.00-00-0.00 or later.

step 2In the camera menus, select NETWORK SETTINGS.

step 3Under NETWORK FUNC, either delete all accounts or add an account named guest and password auguest all lowercase.

step 4Under NETWORK PROPERTY, set TYPE to 'INFRA(MANUAL)'.

step 5Change DHCP to OFF, we will keep the default 192.168.0.1 IP address for this example.

step 6Change NETWORK SEL from OFF to WLAN.

step 7Power cycle the camera to apply the network changes.
note
When changing network configuration or user account, it is usually required to power cycle the camera to apply the changes