This page covers the generic CI0 characteristics and configurations. Specific guidance for supported cameras and devices configuration can be found in the Integration section.
CI0 Ports
Serial Ports

Connectors
Serial ports connector refererence: Hirose HR10A-7R-6S(73)
Mating plug for cables: HR10A-7P-6P(73)
Cyanview provides a range of cables to interface most cameras. Please refer to our cable page.
The Integration manuals also provide information on what cable to use for what camera.
Port Pinout

Female receptacle.
PIN Number
Protocol Pinouts
RS232
RS422
RS485
1
Y/TX+
A/+
2
TX
Z/TX-
B/-
3
RX
A/RX+
4
B/RX-
5
GND
GND
GND
6
+12V
+12V
+12V
Shell
CI0 Models
Different CI0 models differentiates on number and type of ports:
CY-CI0: Standard two ports.
CY-CI03P: A third ports available for cam head management.
CY-CI0BM: CI0 two ports with BlackMagic SDI control extension (see: BM serial cam integration manual).
Supported protocols
Different CI0 Ports will support different protocols:
| Port/Protocol | RS485 | RS232 | RS422 | LANC | SBUS | VISCA | UART TTL | B4 Lens |
| --- | --- | --- | --- | --- | --- | --- | --- | --- |
| P1 | V | V | V | | | V | | V |
| P2 | V | V | V | V | V | V | | V |
| P3 | | | | | | | V | |
Ethernet Port
10/100Mb Ethernet, PoE+ (Power over Internet) 802.3af/at
Supported Serial topology
A serial camera connected to CI0

Basic configuration where CI0 turns a camera into managed camera.
A camera on each port

Several Serial camera connected to CI0.
One serial camera by port.
Two ports available on base CY-CI0 model, three ports available on CY-CI03P.
A BUS of cameras

When camera supports Serial BUS, several camera can be connected on a single port (see: CI0 Serial BUS).
Connection and Setup
Network setup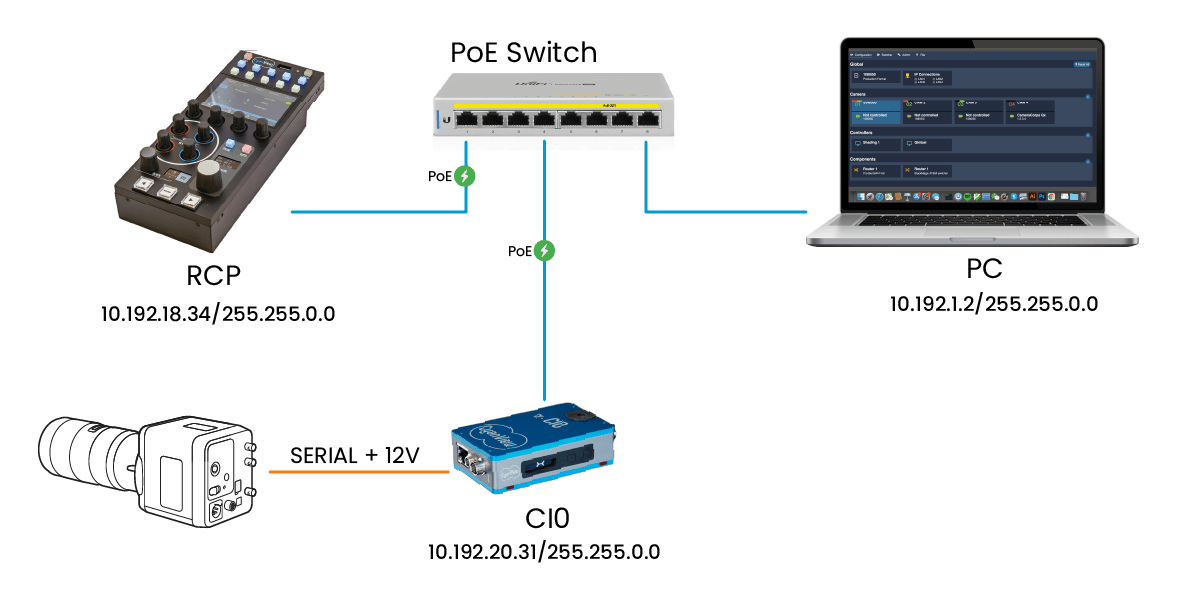 CI0 uses a fixed IP, if IP is required to change, please mail to support@cyanview.com.
Required ports
CI0 relies on TCP/IP network with no port limitation in order to communicate with other devices.
Mandatory ports:
3838 UDP port for discovery.
1883 TCP port.
Random port for serial communication.
Power Connection
Connect your CI0 to the PoE+ switch, if no PoE+ is available, use a 12V 2A DC power supply
When powered with PoE, the output voltage on ports connectors will be 12V DC, regulated. When powered with the DC IN plug, the voltage is not regulated. Thus, the input voltage will be present on the 2 camera ports. Make sure that the cameras connected support the voltage you supply on DC IN.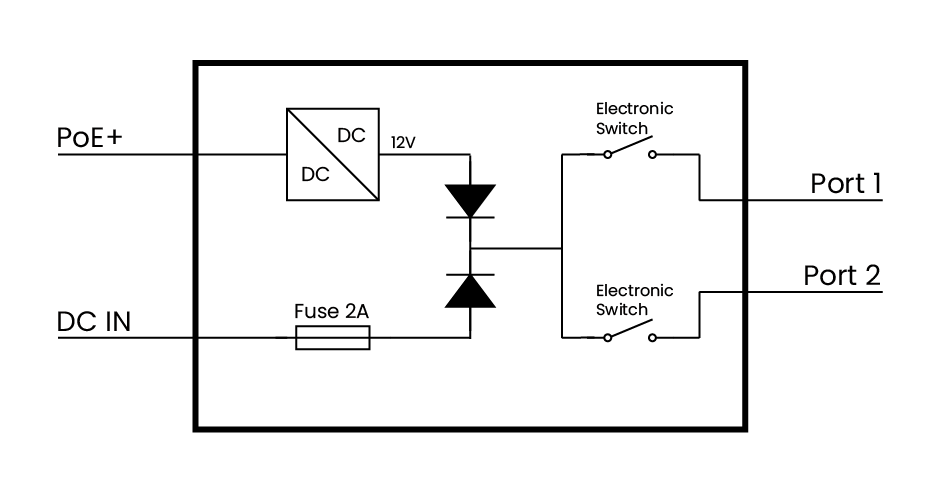 DC IN voltage is between 10V and 24V. The input voltage will be directly applied to the camera so if you power from batteries, make sure the camera does support the higher battery voltage as well. For thermal reasons, camera consumption should not exceed 12W by port.
When using PoE+, the power provided to the camera is 12V 1A, depending on the network switch.
Power plug is a switchcraft 762K or compatible (5.5x2.1mm).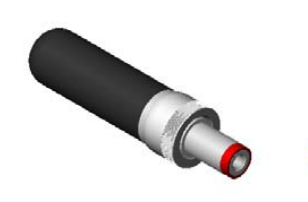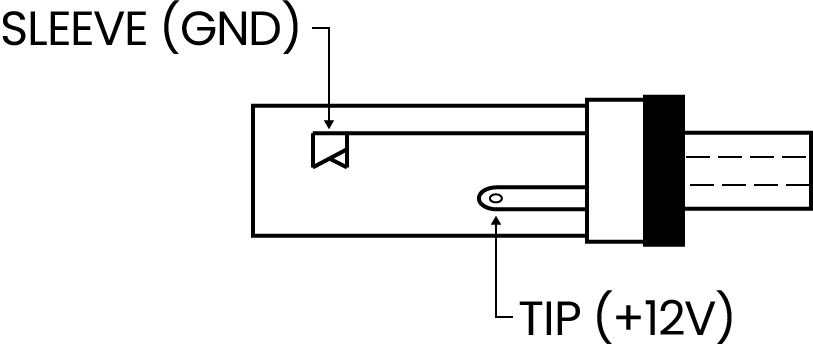 CI0 status
CI0 network connectivity status is displayed on the lateral LCD screen.

Status:
CI0 is waiting for network connection.
CI0 is connected to the network but not RCP.
CI0 is discovered by an RCP.
Camera 01 is configured on port 1 but not connected to CI0.
Camera 01 connected to CI0.
In this example, status screen shows that camera 01 is configured on Port 1 (left), if camera is configured on port 2 (right), the camera number would be displayed on the right side

.
When using a CY-CI03P, the third port status is displayed in the middle:

CI0 screen information
When pushing one of the button aside the screen, the screen will loop the following information: Camera name on PORT1, PORT2, CI0 IP address, CI0 MAC address. The screen will display the default information after a few seconds.
Update
Automatic Update
CI0 is updated automatically by the RCP or GWY when the software version changes. This ensures that the firmware is always synchronized with the corresponding software. If the CI0 firmware version doesn't match the version required by the RCP, the CI0 will be updated at startup.
Force a firmware Update
In some circumstances, the CI0 might not update automatically. This might be the case if a unit has been updated and is used with a much older software afterwards.
In that case, it is possible to force a CI0 firmware update by pressing and holding the two buttons along the status screen while powering it ON.
CI0 Status screen will then display a FLASH progress bar. When update is finished, CI0 will start. Older CI0 units have a blank screen during the bootloading progress and the LEDs are blinking instead. Note that an update of the bootloader will be possible in the future.
Troubleshooting
CI0 doesn't start
If the CI0 is discovered, the issue is likely related to the LCD display. The display is not mandatory for a correct operation of the CI0. It can be repaired by Cyanview if needed.
Check the LED on the ethernet connector of the CI0.
If the green and orange LEDs are off, this could indicate a problem with the power supply. If the LEDs are on, this may indicate a problem with the firmware.
Power supply issues
If powered by PoE

Check the PoE switch and ensure that the PoE led lights are up, meaning that the PoE power is enabled. Try to power the CI0 with an external 12V wall plug (if available).

If powered by external 12V wall plug

Ensure the wall plug works correctly (voltage must not be lower than 10V). Try to power the CI0 on a PoE switch (if available).
If the problem persist after these verification, the CI0 may have a hardware issue. In that case, the CI0 should be returned for repair. Please contact Cyanview.
Firmware issues
Activate the bootloader manually to recover the firmware (see Force a firmware Update)
If the CI0 doesn't recover after one minute, this may indicate a hardware issue. In that case, the CI0 should be returned for repair. Please contact Cyanview.
CI0 status 'X'
CI0 can't communicate with RCP over the network.
Verify network connections: Activity on the green and yellow LED of ethernet port.
Make sure 3838 UDP port is not blocked.
CI0 is slow or takes time to connect
Network devices impact the communication.
If using a Netgear switch, Netgear switch tends to reply to reply to ARP request intended to devices. Reboot or change the switch.