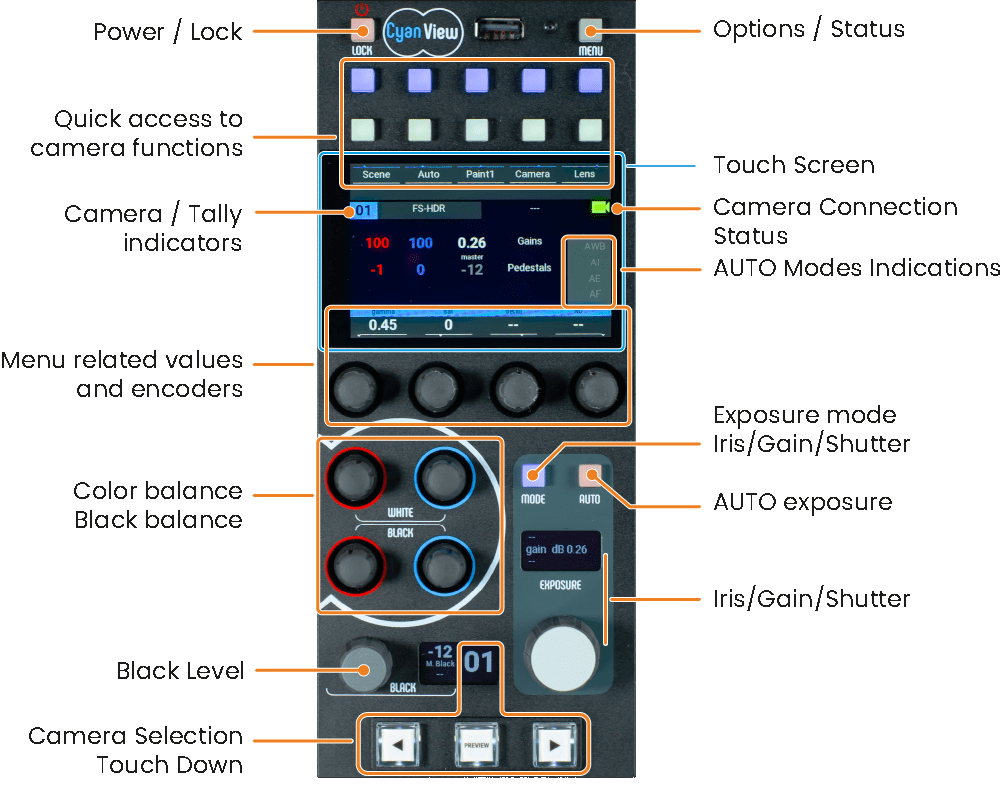 LOCK Button
A 1 second press locks/unlocks the RCP panel.
When the RCP is locked, the screen is dimmed, but is still refreshed with information.
In this mode, the buttons and encoders have no effects.
5 seconds press then release switches OFF the RCP controls.
Switched ON by pressing the Power/Lock button again.
MENU Button
The RCP MENU shows information on IP addresses, software versions, GPIO status and other diagnostic information.
Network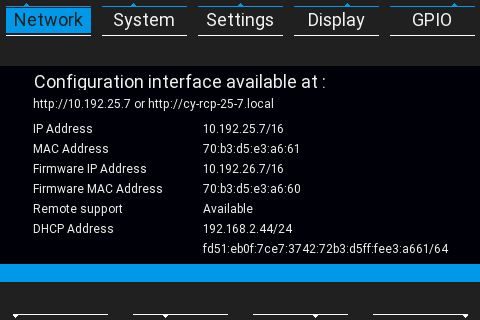 IP Address, your RCP's fixed ip, can be ping to verify the network access.
MAC Address, allows to setup your network component like firewall or switches.
DHCP Address, IP address received from the network DHCP server if available.
Remote support status: available or not.
System Screen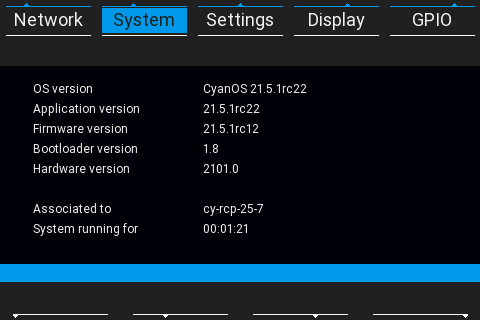 Shows version of the different software components of the RCP.
OS version
Application version
Firmware version
Bootloader version
GPIO
The GPIO presents a status of the 8 port of each GPIO is represented by 1 or 0.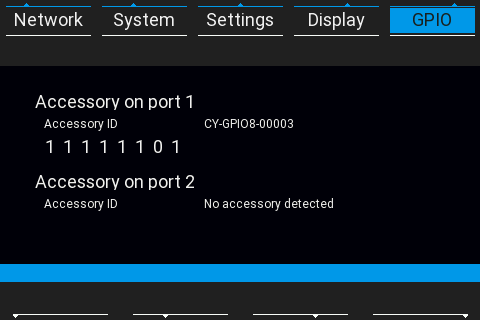 See GPIO page for more information about GPIO possibilities.
Black Control
Press the encoder to switch between master black and black gamma mode.




Master black is the upper figure, black gamma is represented by the lower figure.

5 seconds after setting black gamma the default mode will switch back to master black.



Rotate the encoder to set the master black or black gamma according the active mode.
Exposure Control
Rotate the encoder to set the Iris, Gain, or Shutter exposure.
Press the MODE button to switch between Iris, Gain, and Shutter exposure modes.
When no active mode (no highlighted mode on display), defaults exposure mode will be Iris if available on the camera, otherwise it will be Gain mode.
Press the AUTO button to Toggle the Iris, Gain, or Shutter auto exposure.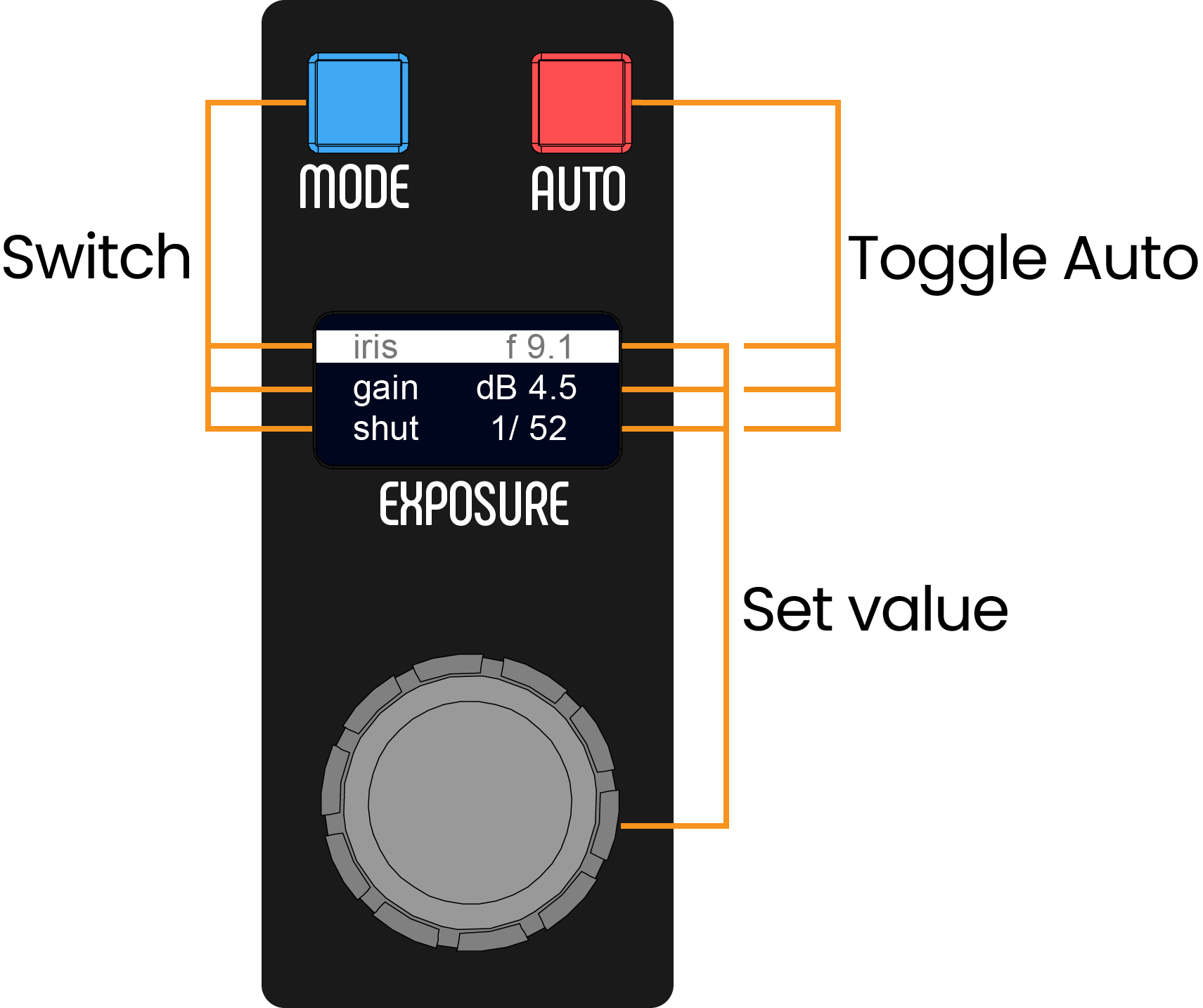 RCP Screen
Screens Overview
| | | |
| --- | --- | --- |
| Main | Scene | |
| | Auto | |
| | Paint1 | Paint2 |
| | Camera | |
| | Lens | |
Screen Navigation
Demonstration on how to access the different RCP screens.
note
Values represented by '--' are functions not supported by that camera model.
Preview
Change the active camera by pressing the left or right buttons.
If a router integration has been configured, switching camera on the RCP will also switch the router to the same camera.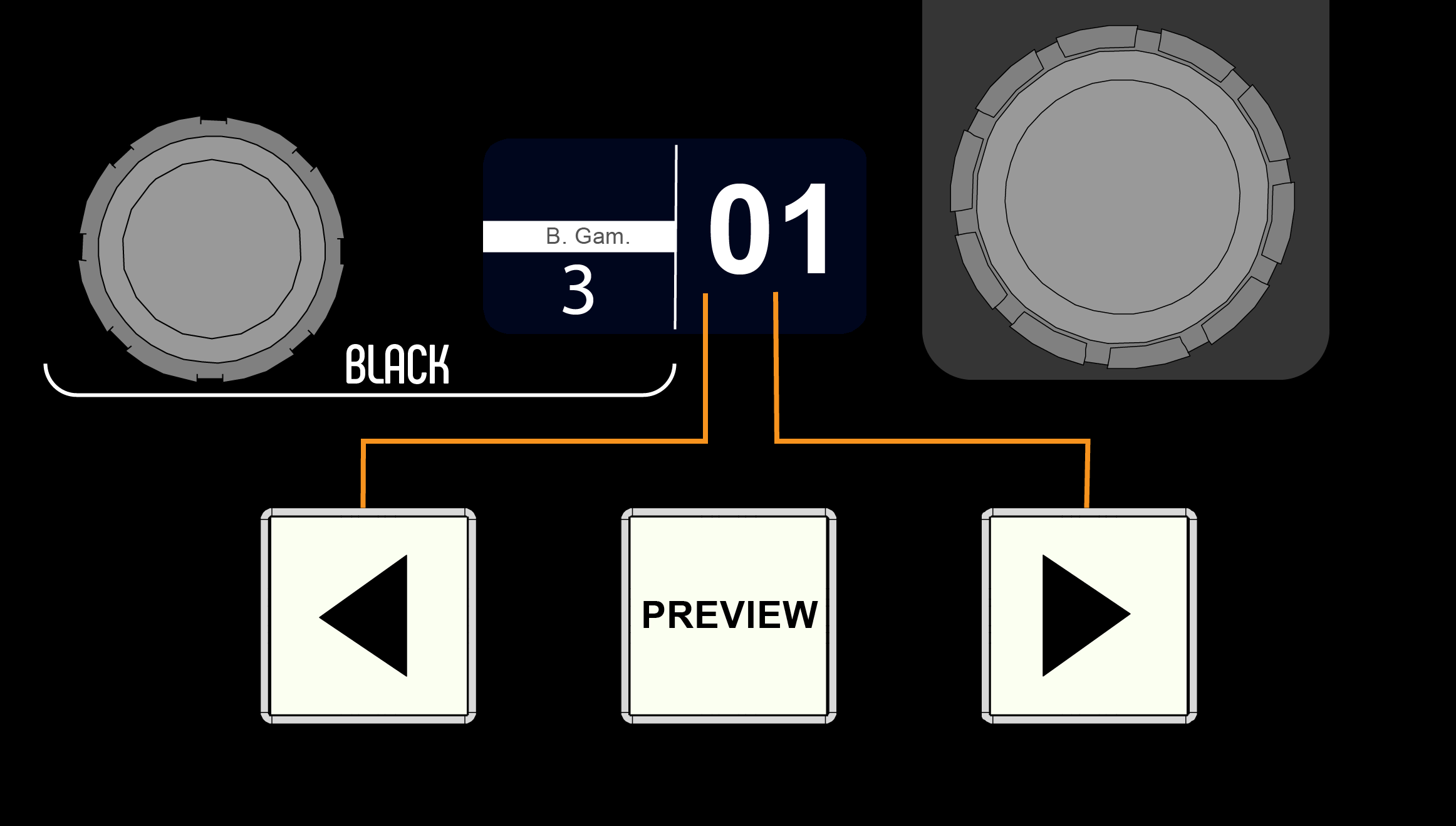 GPIO
The PREVIEW button can a preview/touch-down signal via the RCP GPIO or recalls the selected camera on the router.
Protocol
To configure routers using specific protocols, refer to the Integration section of the support site. ie:
Supported protocols are: Probel (VSM, Cerebrum, ROSS, GV, etc.), Evertz Quartz, Blackmagic, etc...