This article covers the most important changes that come with this release.
You can find a detailed changelog here
Introduction
Our devices are usually separated into two parts:
One microcontroller doing the low level and time-sensitive actions
One mini-computer running Linux handling all the protocol, configuration, web page, etc.
This release is a big one in terms of features, but it brings a major update to our custom Linux operating system.
So this upgrade is recommended because it will increase the lifespan of your device and improve the stability, and cherry on the pie, a lot of new features and new bug fixes.
Upgrade
This kind of change requires a full upgrade of the operating system. We have a specific process that is secure and robust, consisting of an SWU update that can be done offline using a web browser. To update your device, you have to:
New products
We're always working on new products and features, but we usually don't communicate on it until it reaches a certain amount of maturity:
A proper release
Stable
Documentation
Pricing model when required
RCP Duo, Quattro, Octo and Broadcast
Those are not really new products, but they mark an evolution of our core product to make it more accessible to more people and use cases.
We started our product line with the gateway and an RCP. Even if it is still sold/maintained/used. We keep it on big projects with specific needs:
Many cameras (more than 50)
Different equipment connected (VSM, video-processors, ...)
Physical network separation (LAN, WAN, VLAN, ...)
Custom development
We quickly realized that our clients were not always using "big configurations". So we designed the RCP-GWY (now simply called RCP as the legacy RCP is not sold anymore), by integrating the RCP part and a mini-computer together to act as a gateway.
By having this standalone RCP, we provided to handle small configuration on its own and handle bigger configuration when using multiple ones together. And all of that in a more comprehensive package (standalone) and at a contained price (no gateway to purchase).
Recently, we introduce a new way to use RCP in more workflow: RCP Duo, Quattro, Octo and Broadcast. The form factor was convenient. But in some specific markets and verticals, we had some issues:
If you need to control only two cameras, why would you pay for the full price?
If you run a simplified production, you need the setup to be straightforward and simple.
But when running in an OB with a complex setup, you need different kinds of features and different kinds of configurations. That's why we introduce two different ranges of products:
RCP Duo, Quattro and Octo: limiting the number and camera and keeping the integration focused on this small setup (ATEM integration, tally, but no VSM)
RCP broadcast: everything you can find in the standard RCP, with no limitation and advanced setup (VSM, etc.)
As this is a software-based limitation, your RCP will follow your needs:
You can start with an RCP duo to control two cameras
And when your needs evolve, change the license to upgrade to a Quattro or Octo The license is a one-time buy and is simply the price difference. To activate it, you need to contact our sales department and connect your RCP at least once to the internet.
Even if we already controlled some color correctors (Lawo VPro8, AJA FS HDR, ...). This is enough if you just want to do a white balance. But if you need advanced shading capabilities (multi matrix, etc.) this was not enough.
The VP4 is designed more like a CCU in terms of control:
Advanced shading
Based on 3D LUT
It has 4 SDI in, 4 SDI out, and can be controlled over IP:
From a web interface (if you need to shade only once, like a background screen, etc.)
From our RCP:

You can control any of the four channels independently as any other camera
You can also mix camera control and VP4 control to have a hybrid camera where the VP4 compensates the camera control (interesting with DSLR, LANC cameras, etc.)
And more recently, it showed some key use cases in remote production:
As a way to reduce the camera cost: as the control scales with the camera price, you can use the VP4 to shade multiple cheaper cameras.
As a way to improve the quality of your remote camera: by combining remote control (using our RIO) and VP4 shading on the incoming signal. You will have the best of both worlds.
RIO
We're working on this product for some time This new release push it a step further by not only allowing remote control but a new way to control any camera from anywhere: REMI And is now available to the public as we have:
Cloud deployed in the US and Europe
Web page to monitor and configure everything
Everything is now easy to configure and monitor from the GUI
New features
You can now easily configure your tally input:
And set up our tally output:
Camera protocol
GPO
CI0/RIO external port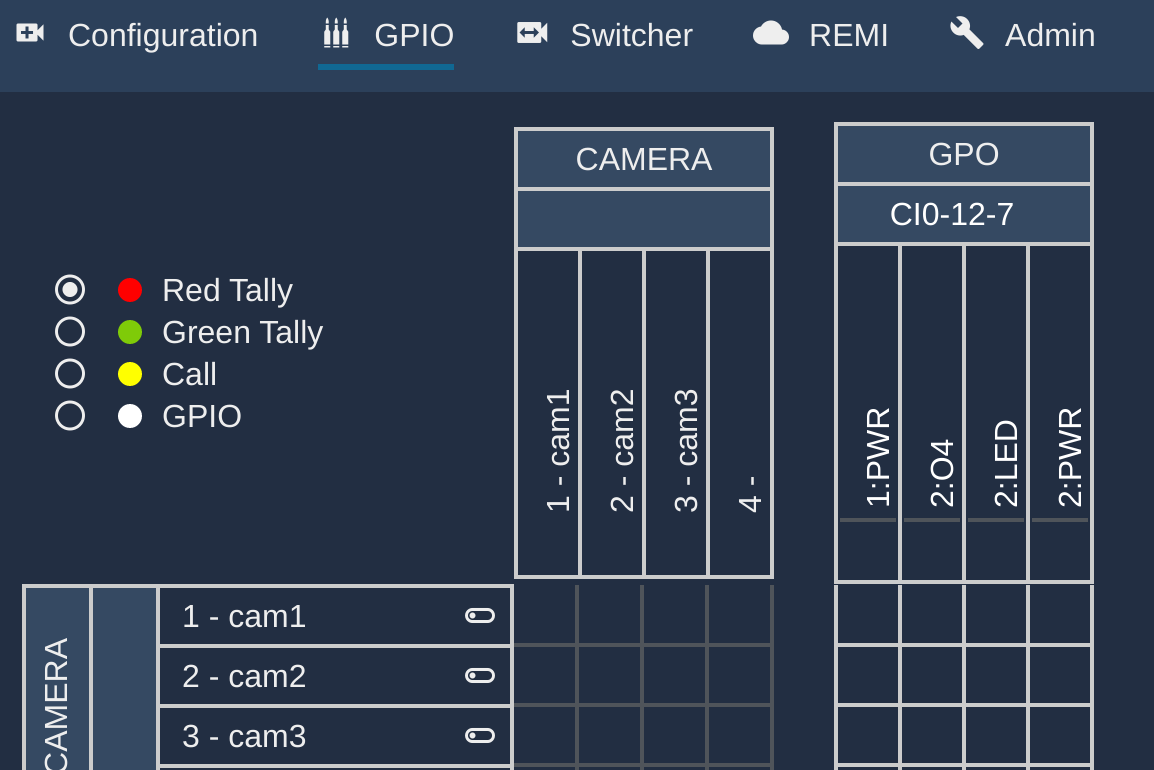 Even if it was already possible to set up a basic WAN setup (DHCP) and simple LAN setup (additional IP/Mask range), it was not enough for a lot of use cases. So we added:
The possibility to use USB dongles to add new physical ports
The possibility to configure them with
Add custom route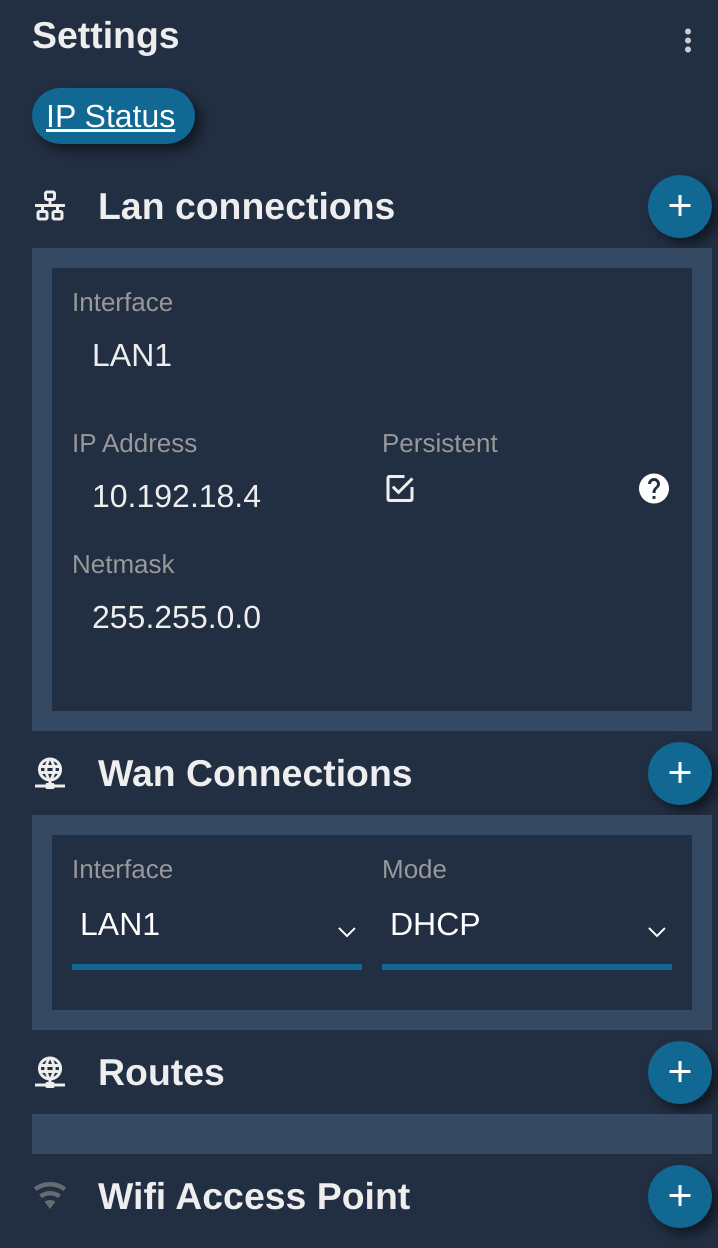 DSLR support
We add more and more cameras regularly. But in this release, we added a new type of camera: DSLR
They are interesting in multiple ways:
They have big sensors
Autofocus with tracking capabilities
Slow motion capabilities
Cinema look
Small form factor to mount on gimbals
We now support the following DSLR:
And you can combine it with our VP4 to transform them into a system camera.
Replay
We integrated new cameras:
And we also integrated:
It allows you to choose the best way to integrate your camera:
Using your existing EVS/LSM remote and our RCP making the bridge between any camera and the EVS.
Using Streamdeck/Shuttle to have a standalone way to trigger/replay alongside the shading in an affordable and compact package.